Amazon Web Services Hands-On Labs – Amazon Web Services
Friday, 11 April  - 10:00 to 18:00
Visit the AWS Hands-On Labs and take advantage of over 10 self-paced lab sessions. These labs give you an opportunity to get hands-on experience with AWS using common use cases in a live AWS environment. The lab room is staffed with knowledgeable AWS Solutions Architects and AWS Partner Instructors to help answer your questions. Each lab is approximately 1 hour and seating is limited to 40 attendees at a time. All labs are available at no charge and dedicated computers are provided.
How to participate: pre-booking is not mandatory, simply reserve your place on the same day. The AWS Hands-on-Labs are sponsored by Interact (http://www.interact.it) and XPeppers, AWS authorized training partner in Italy. Visit their website to learn about official AWS training classes:  http://www.xpeppers.com/training/.
Access to Labs is allowed to Codemotion Ticket holders.
Back to list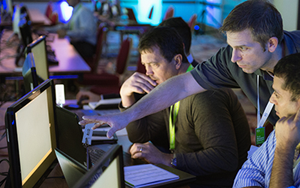 Back to list